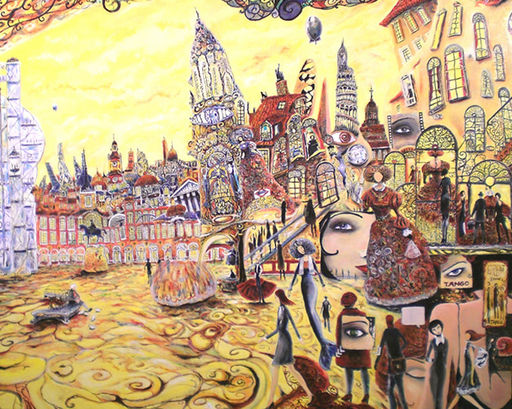 Spain, 1968. Selftaught fine artist. In his imaginary urban landscapes there are overlaid elements of towns he has visited, some imagined, and maybe dreamed, but all with a unique feminine soul.
The Town is a mother, lover, or daughter of the actions, dreams and passions of those who dwell in them or recall them in the distance. It is an idea in which wander those who have been caught up in its infinite labyrinth.
"I think that since Art is an activity essentially human, it is difficult to separate it from thinking and feelings, form our own life."
The author proposes a trip through the Town, seen from the traveller's point of view, through his own experiences, recollections and dreams. "I invite you to walk through the roads of this town, always unreal and often so close to us, so that you can bring to it your own view - the most important element. Transcend the limits of what is evident, help to build it, even though you only know that you have been here and have felt it".
New works will see the light, born out of other journeys and experiences.